Social Work Theory App - Your Critical Friend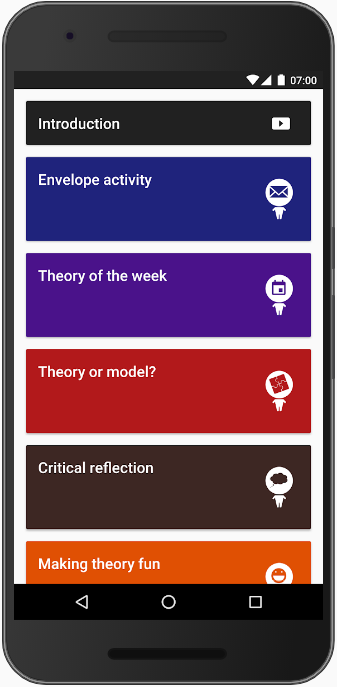 Have you ever wished that you could carry round someone who could give you advice and guidance on theory and critical reflection in your practice? This app is designed to provide you with that critical friend in your pocket!
This popular mobile device app contains 9 interactive sections, as follows:
The Envelope Activity This activity encourages the user to provide some key points about a piece of work. Theories and models which may be relevant to the practice are then suggested.
Theory of the Week This showcases a different theory each week. The app will soon be updated with this section providing an A-Z library of social work theory.
Theory or Model? Students (and practitioners) sometimes struggle with the difference between a theory, model, method and approach. This section provides clarity about this specific question.
Critical Reflection This section provides a range of information about developing both reflective practice and reflective supervision. Different models of reflection are covered and advice is given on reflective writing. Examples of good reflective writing appear.
Making Theory Fun This section contains a range of advice for practice educators on activities that can be used with students, in team meetings and on training to make theory more accessible and interesting.
What? Why? How? This contains a range of different interactive material illustrating the way that these three questions provide the most important framework for social work practice.
Questions and Answers Users are able to submit questions. Questions and answers which might benefit others are posted on a forum board.
Lightbulb moments Users are able to share lightbulb moments – what has worked well?
Further reading and reviews Information on further reading and reviews of books are included.
The app is currently available on iPad and android devices. We are working to bring it onto iPhone.
Contact us for more information.