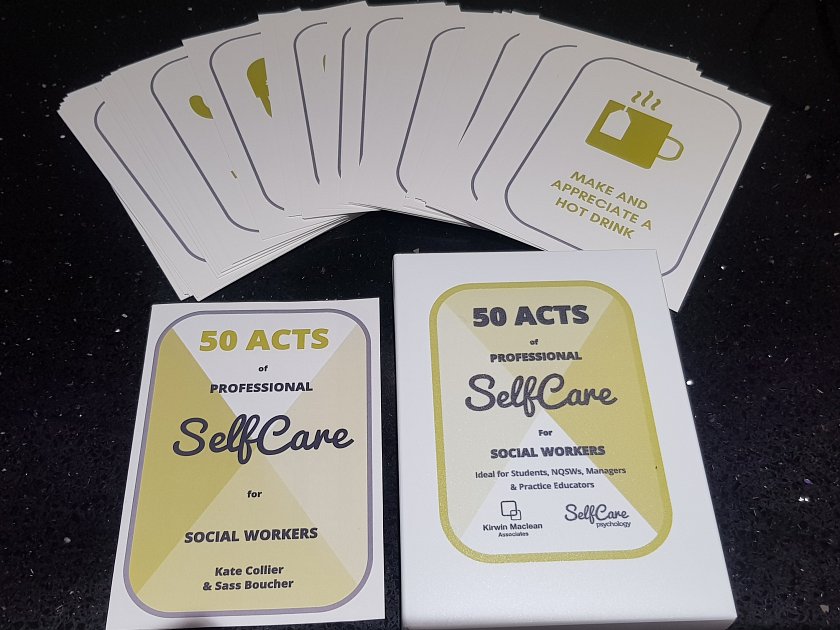 by Siobhan Maclean
31st Dec 2018
Happy New Year
I've just been reading some social workers tweeting their new year resolutions, they almost all referred to finding a better work life balance or improving their approach to self-care in some way. For many years I have been interested in self-care for social workers and how we can find that balance of looking after ourselves whilst also keeping the focus of our profession on the rights and needs of the people we serve. I have always been conscious that there is a danger in talking about self-care that we move towards a super-hero narrative that focuses on the needs of social workers rather than recognising the great privilege of our role. Getting that balance right requires a complex skill set, compassion and a real understanding of the social work role. I have been fortunate to work with Sass Boucher for more than ten years, and Sass has the necessary skill set in bucketloads. Sass is one of the founders of SelfCare Psychology. I have enjoyed working alongside Sass in a range of ways since we first met, working together with students on placement, and have long admired her evidence-based approach to self-care for social workers. Sass and Kate Collier have developed a fabulous resource for social workers which we have published. I will let Kate and Sass tell you about the cards in the following text – but believe me, I have found them useful myself. If you are looking at improving your own self-care this year, then these are for you.
Social Workers, Social Work Students, Managers and Practice Educators: you need these cards.
You work in a profession where you care deeply and make a difference, but stress can be constant, and burnout an ever-present threat.
Our Professional Self-Care for Social Worker Cards contains 50 A6 cards of individual professional self-care acts, for practical ways for you and/or your team to support and strengthen resilience.
The pack of cards come in a practical box which also includes instructions on how to use them, individually, as part of a team challenge, or through supervision, aiming to embed behaviour change. The pack also gives you access to exclusive downloadable resources to facilitate this such as an individual resilience planner.
It is unacceptable to lose highly trained, experienced practitioners due to ill health, frustration and burnout. We can't always control the environments and structures we work within, but we always have control over how we choose to deal with it.
These cards are based around our theory and model of protection, The Five Pillars of Protection as a way to buffer Professional Trauma and Fatigue. They have been designed as a fun but evidence-based resource to help you tackle the fundamental pillar, Self-Care. They can also be used to improve peer support, as part of a Self-Care Team Challenge, and to raise awareness and generate ideas and discussion in supervision.
Authored and designed by two of SelfCare Psychology's founders, Kate Collier and Sass Boucher, who have over 25 years of experience working in social care.
Sass is a counsellor and psychotherapist working in private practice, with varied clients including local authority work with social workers. Sass previously trained as an on-Site Social Work practice educator and her research is around professional trauma and fatigue in human services.
Kate trained as a Social worker and has over a decade's experience in frontline and management supporting women experiencing domestic abuse, addictions, and trauma, in custody and the community, and is currently head of a regional complex needs service for a charity.
Support your wellbeing and our mission, by using these cards to build your own resilience, and embed a culture of selfcare in social work. Visit www.selfcarepsychology.com for more ideas, inspiration, training and support.
Available NOW
https://www.kirwinmaclean.com/publications/50-acts-of-professional-self-care-for-social-workers